December 6, 2019
Looking for some brilliant ideas for your colleagues, your partner, or your kids? We have a wide range of fun ideas for you to fill up the kids' stockings, get the perfect secret Santa gift or a trendy item for any loved one. Read on to find out all our brilliant 2019 Christmas gift ideas.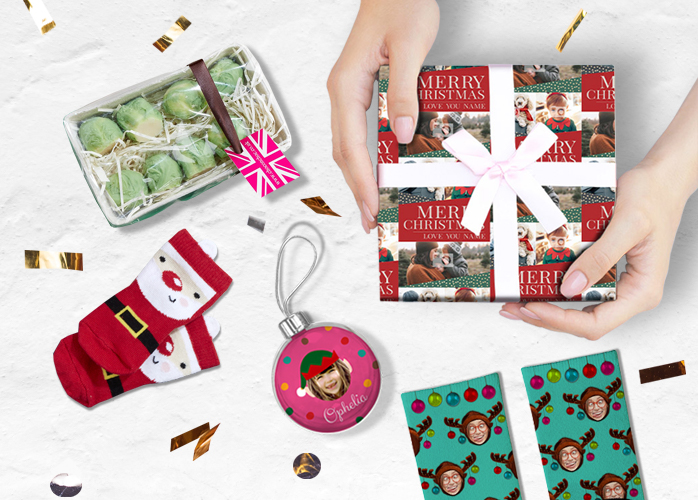 1. Secret Santa Gifts
a. For your colleagues
Just handpicked your work secret Santa? Take a browse in our novelty category to find them a thoughtful or quirky little something. Whether you know what they like because of their daily rants or have an idea of their style by just looking at their desk – find ideas from £3.99.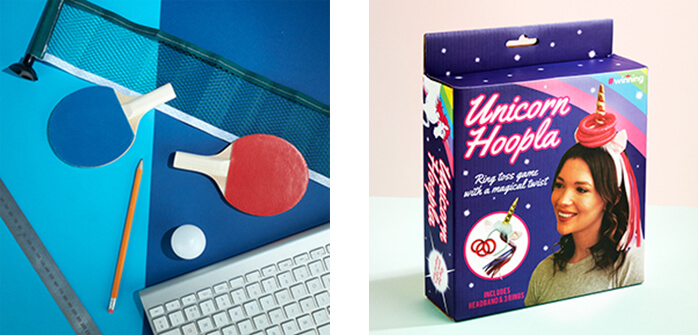 b. For your friends and family
Because one proper gift is always better than bitty ones! So, if this year you and your family have decided to do secret Santa for financial reasons, or just because secret Santa has become a fun tradition between you and your friends – you can find a lot of cheerful items with our secret Santa gift ideas.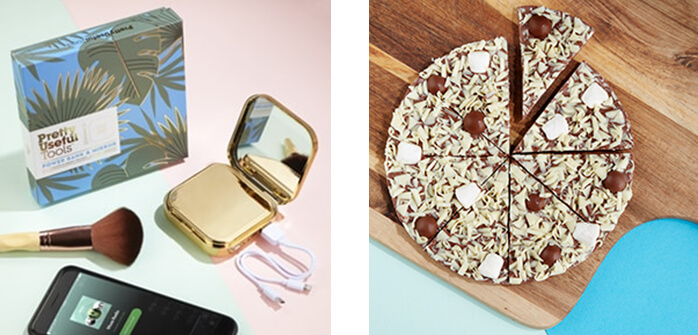 2. Stocking Fillers
a. For kids
Get your kids excited to open their big prezzie, and have their Christmas stockings packed with a mix of cool and fun toys, board games, jigsaws, craft kits, cute personalised books, reversible sequin TY teddies, or Harry Potter themed Lego. We have over 140 items to choose something from depending on your kids' preferences and tastes.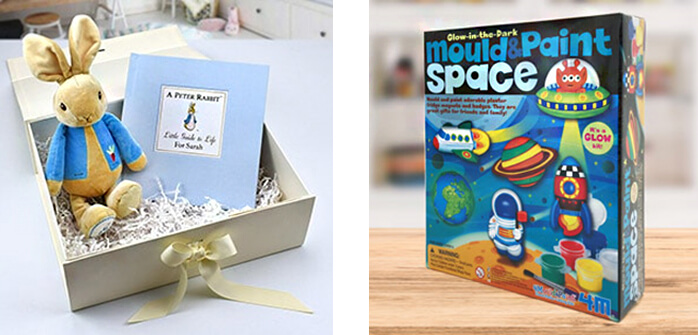 b. For adults
Because mum and dad have a stocking to fill as well, why not get some stocking fillers for your parents this year? You could get them our "Merry Elfin Christmas" apron with their faces on as a joke for all the Christmas cooking and/or baking they'll do on Christmas day or our funny Santa hat Christmas socks, available in sizes 4-7 or 8-11 – you could upload a multitude of their best (or worst) photos to personalise them.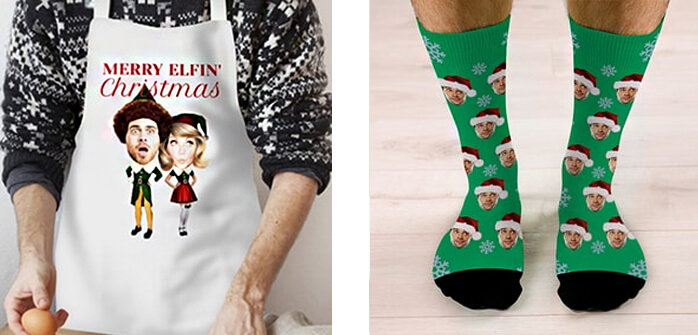 3. Cheap Christmas Gifts (Under £10)
If you are looking for a budget present for your favourite hairdresser, neighbour or work colleagues, you can browse our wide range of cheap Christmas gifts for something under £10. Depending on their habits or humour you could for example get our cheerful yellow "Breakfast club" cup if you know your friend likes to have their morning breakfast when they're at work, or another funny alternative could be to get some chocolate sprouts – love them or hate them they will get everybody talking!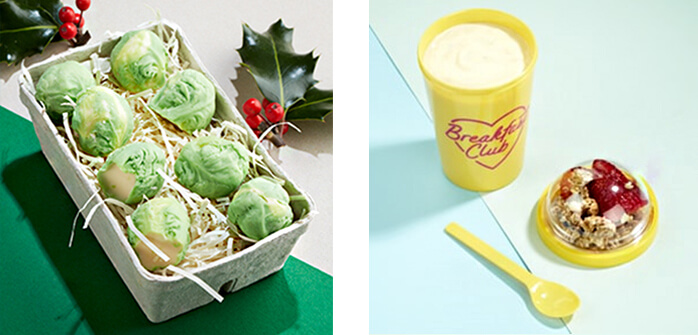 4. Top Picks by Recipient
a. For him
Boyfriend/husband/fiancé
Get your other half a practical or funny gift for Christmas and choose among our 500+ gifts ideas for him. Whether you're looking for a present for your boyfriend, your husband or fiancé. Discover our personalised or non-personalised items ranging from alcohol gift sets, keyrings (if he constantly looses his keys), engraved pens or notebooks, or more modern ideas such as a drone, movie scratch poster, chocolate camembert or pizza, or fabulous experience gifts.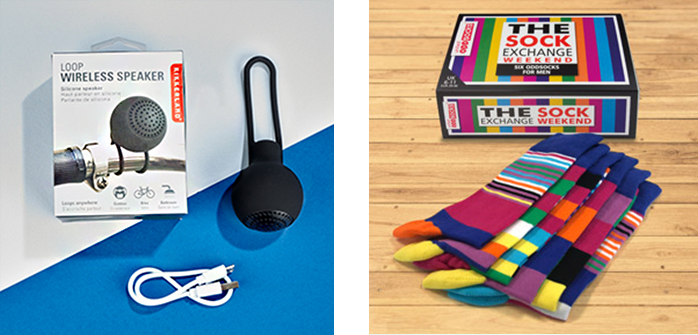 Brother/son/male friend
Find something to match your brother, son, or any of your mates' personalities or tastes for Christmas. In our special ranges of gifts for him, you can find great ideas around different hobbies, brands, TV programmes or major movies including: Game of Thrones, Star Wars, ale tasting, beard growing and so on. Our ideas include gifts like our super popular "Winter is coming" tankard, our personalised beard grooming bag or our super cool R2D2 travel mug.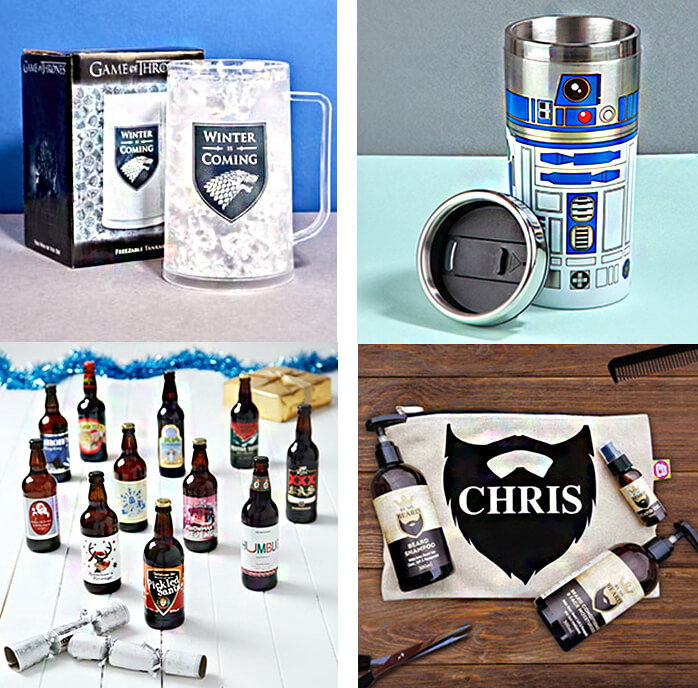 Dad/grandad
There's no need to search for hours or call your parents to get some ideas, but instead find multiple gift ideas for your grandad or presents for your dad in our unique selection of Christmas gift ideas. From growing kits if he's into gardening, a fun poster scratch card for places he could go and visit (if he loves travelling), a unique photo upload whisky bottle to customise with his own face if he is a connoisseur, or a winning race day experience for two – there's over 200 different ideas to choose from.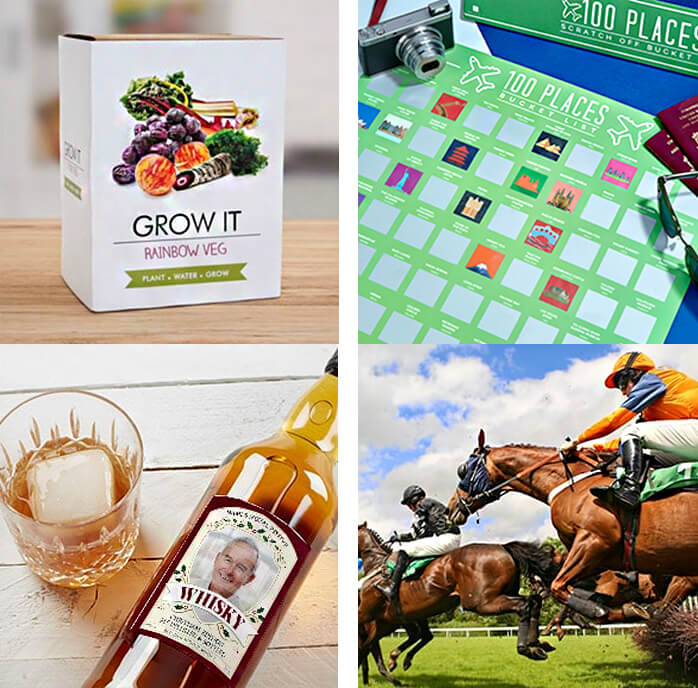 b. For her
Girlfriend/wife/fiancée
Chocolate and Christmas go together like snow on Christmas morning. Unlike the latter, chocolates during the festive season can be guaranteed thanks to our personalised chocolate boxes like this '12 Days of Christmas' box below. You can also find quirky ideas for her such as a banana monkey wine set if she likes her wine, or a set of three handy phone lenses if she likes to get creative with her Instagram. Find all our other gift ideas for your girlfriend, wife, or fiancée in our selection of Christmas gifts for her.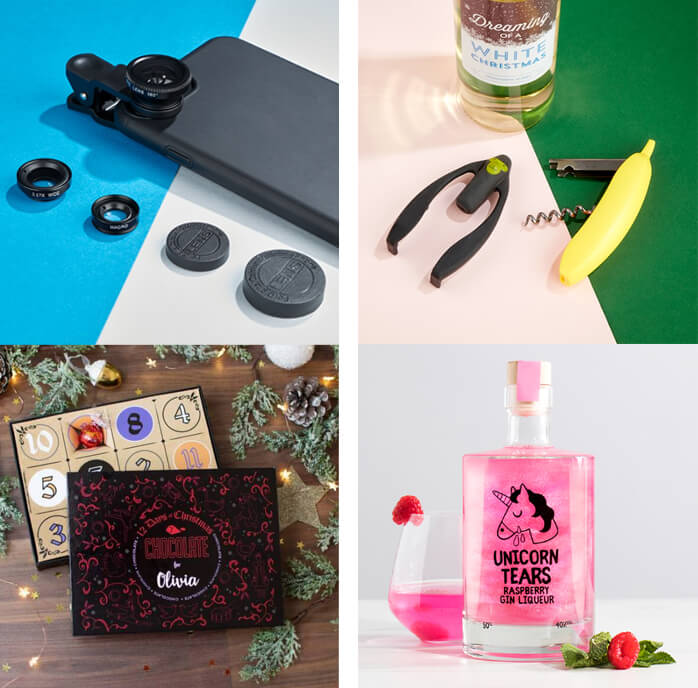 Sister/daughter/female friend
Send your little or big sister, or daughter a cute Christmas prezzie and choose something unique in our Christmas gift ranges for her. Just ask yourself what is she into these days? Is it unicorn? Gin? Growing her own plants or veggies? Sewing? Fashion? Pampering? Delicate jewellery? Vintage games or puzzles? We've got the lot!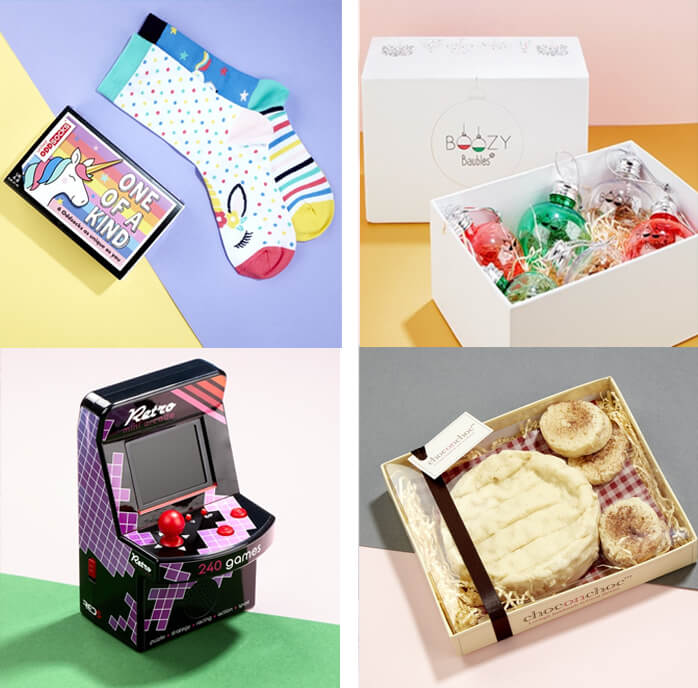 Grandma/mum
Get your sweet grandma and mum a lovely gift or two for all the support and help she has given you over the year and choose something that she will really enjoy with our range of Christmas gifts for mum, and grandma. Choose something nice like our sloe gin Grow It kit if she is into gardening, a beautiful white roses bouquet, our trio of Heyland Whittle soaps, or treat her with an experience like an afternoon tea for two.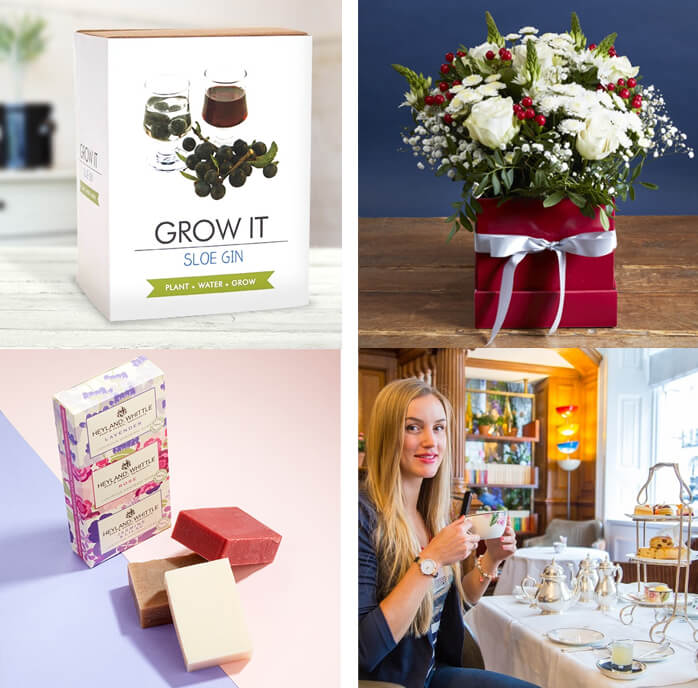 c. Baby Christmas Gifts
1st Christmas gifts
Celebrate your new-born's very first Christmas with an adorable photo bauble – great gifts to make the most of all the pictures since the birth. You could customise a sweet "First Christmas" cushion, or a festive photo block or choose among our cute Peter Rabbit teddies and get one embroidered with his/her name. Check out all our other innovative gifts in our rich selection of 1st Christmas gifts.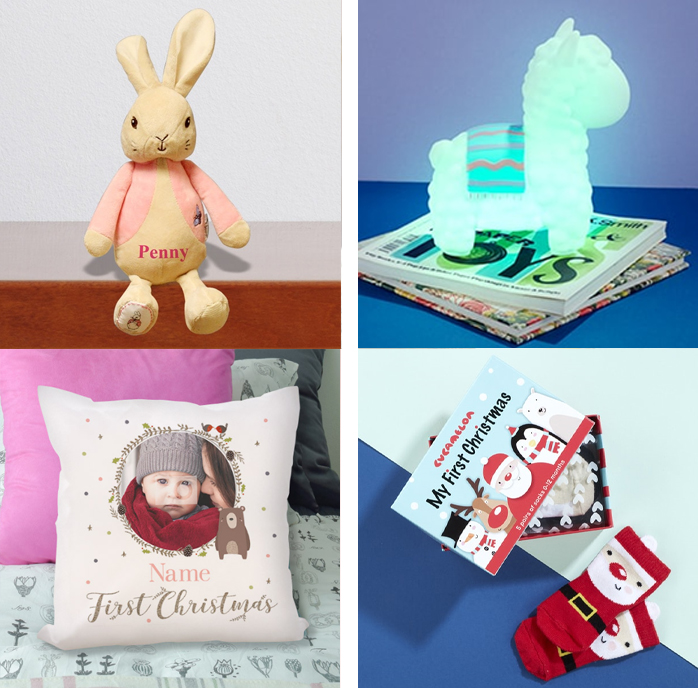 d. For Kids
Make great use of your grandchild or child's best photo and create their very own cute elf or reindeer photo bauble. Simply upload any picture from your device quickly and easily. You can also choose other personalised items for kids – such as personalised books where you only need to add their name to make bedtime stories a lot more special. You'll also find perfect branded ideas such as, or Lego and Slime gifts, popular toys or jigsaw puzzles and games.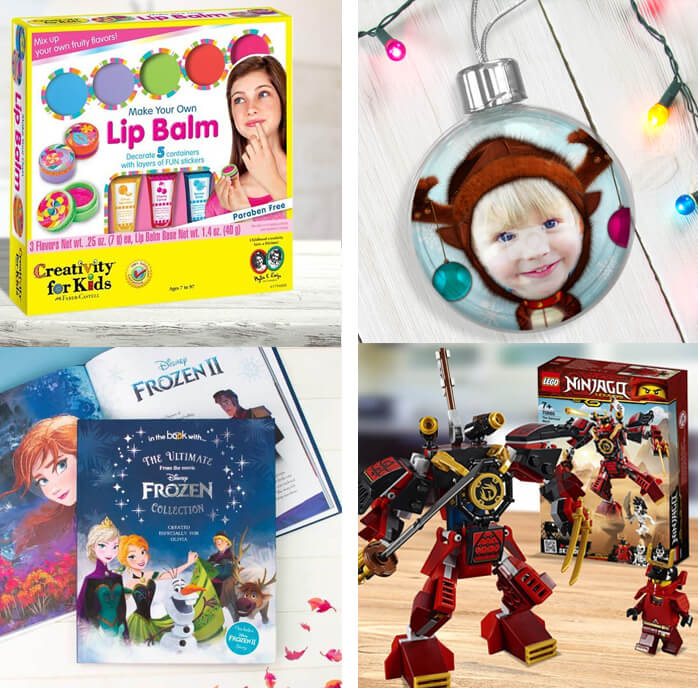 e. For newlyweds
Are you newlyweds, or did your best mates get married this year? Maybe it was such a special event that you can reuse some of the photos you've taken on the day! We have a selection of wedding specific personalised photo gifts to create a beautiful Christmas present for the newlyweds – something they will keep for years to come!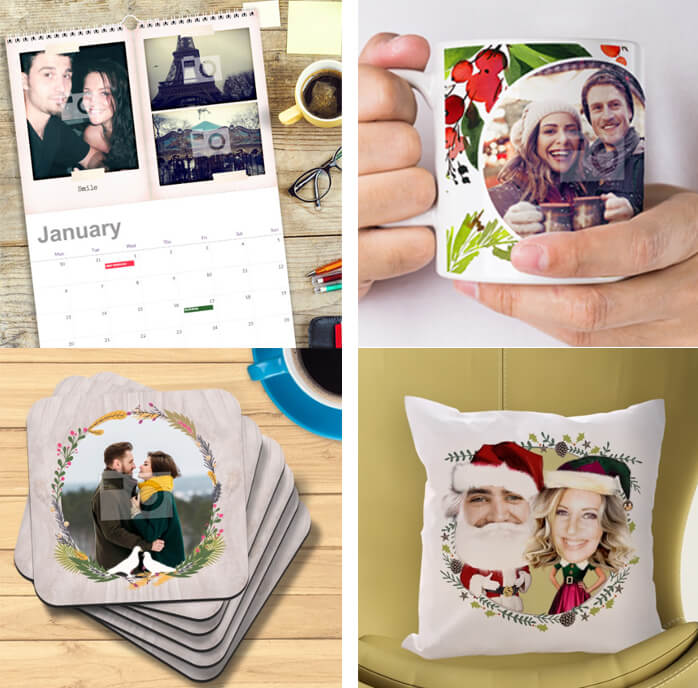 f. For pet lovers
If you know someone who treats their pets like their children and loves sending you cute photos, why not use one of the photos and send them a pet lover personalised gift such as a pet snow globe, photo block, keyring, or cute Christmas bauble?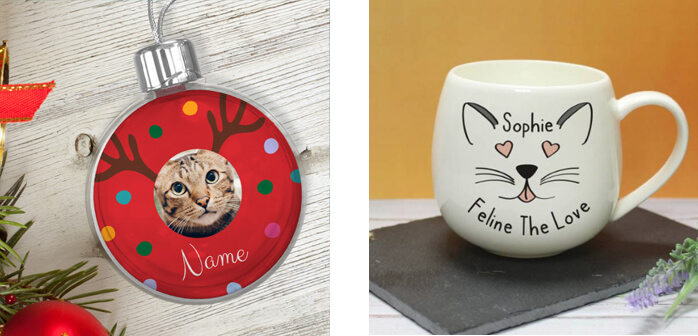 Last Minute Christmas
Depending on the time of the day you'll place your order; our cut-off times will vary as for special occasions. For Christmas our trading the cut off time for gift orders will revert to 12 noon with effect from Monday 2nd December 2019 up to and including Thursday 2nd January 2020.
If you need urgent or special delivery, remember that you can choose between our three different options: standard 1st class, UK next working day and Saturday Guaranteed which can be used until Friday 20th December for us to guarantee your deliveries in time. For more information, please refer to our more detailed delivery information page here.