Last updated: August 24th, 2022
Published on: September 5, 2019
In August 2019, we introduced a brand new range of flower bouquets, letterbox flowers and plants to our online collection. See below a few of your frequently asked questions to make sure we address any pain points when it comes to your Funky Pigeon flowers.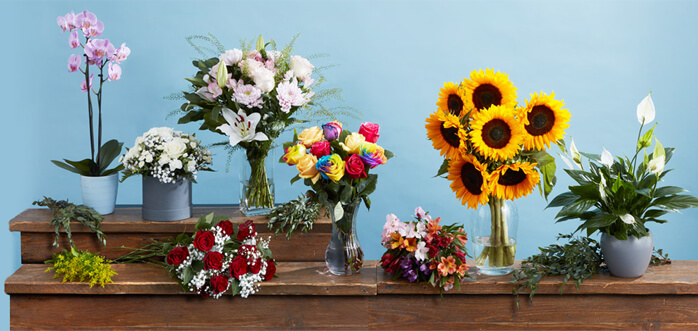 Flower Delivery Options
We offer two delivery options depending on the type of bouquet you select:
• If you select a bouquet under £30 your UK delivery will be £4
• If choose any bouquet over £30 you get free next day delivery.
Choose Your Delivery Times
For more convenience, we offer you the option to choose your own delivery time. When processing your order you will be able to select your chosen delivery date and time from a few available time slots – seven days a week, including Saturday and Sunday. There is no extra charge for delivery on these days.
Order Cut-Off Times
Any order which is placed before 6pm any day of the week will be delivered the next day at any time between 7am to 7pm UNLESS you choose for it to be delivered on your own chosen day and time (as mentioned above).
Letterbox Flower Delivery
Our letterbox dimensions are 620mm x 183mm x 38mm, as they are designed to fit through a standard letterbox. If the recipient's letterbox is smaller than this, or there's an obstruction on the inside or outside, the courier may leave the box partially hanging out of the letterbox or in a safe place.

Delivery Times
We realise that occasionally we may try to deliver an order and you (or the intended recipient) may not be at the delivery address. If this situation occurs, we will attempt to leave the parcel with a neighbour or in a safe place (at the absolute discretion of delivery driver) at the premises.
If your delivery is left in a safe place, Funky Pigeon and our courier flower partner shall not be liable to any person for any loss or damage which may arise thereafter, howsoever caused. If no safe place is available, a card will be left with a contact number for the recipient to call.
Please note that if delivery is requested on a Friday or Saturday and you or the recipient are not at the delivery address, then due to the perishable nature of this product it may not be possible to arrange a re-delivery. If this is the case our customer service team will contact you.
On very rare occasions due to flooding or adverse weather conditions, delivery may need to be re-scheduled. In this instance our customer services team will contact you.
Our Funky Pigeon Flower Packaging
All of the bouquets are wrapped in a cellophane gift wrap. In addition, some of the bouquets have colour co-ordinated silk paper. The letterbox flowers are laid flat in the box, but the box is lined with a sheet of clear cellophane.
What to Do When They Arrive?
There are a few things you can do to keep your flowers looking their best. You'll want to trim the stems, pop them in water as fast as possible and then give them some flower food which will be included in the box. You can also follow the steps in our how to make your flowers last longer guide to help keep your flowers looking their best!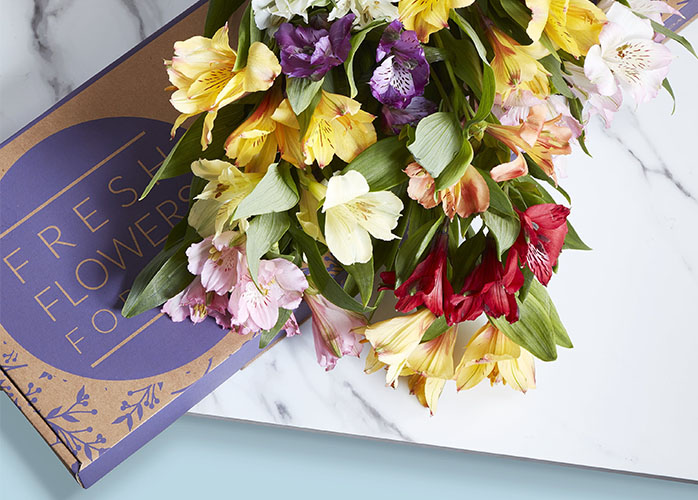 What's Provided to Keep Them Fresh?
The hand tied bouquets are sent with the stems in a moisture pouch. This should be removed and discarded before following the vase preparation instructions.
Our letterbox flowers are sent dry-packed and so don't have a moisture pouch, that's why we have also included a "how to care for your flowers" leaflet in each box.
Our standard floral arrangements are sent pre-arranged in moist floral foam. No further preparation is required, other than the addition of our provided flower food solution.
Are They Sent in Buds or in Full Bloom?
Depending on the variety, most flowers will be sent in bud to ensure that the recipient receives the maximum enjoyment from their flowers, so don't worry if they're not looking their best straight away. The flowers on the website show the bouquets once the buds have opened!
The Outer Petals Are Meant to be Different
If you have received roses in the post, you may notice that the outer petals look slightly wilted. This is perfectly normal, as these petals are called "guard petals", and are left on the bud on purpose to add protection as they travel. To know how to remove them properly, follow our step by step guide here.

How to Care for Your Flowers?
Every flower order is sent with flower food and an instruction leaflet on how to care for your flowers. It includes a few general tips from trimming the stem and removing the leaves or outer rose petals to changing the water every three to four days. For more information, view our blog on how to make your flowers last longer.