November 14, 2019
A Christmas Eve box is generally a small box gifted to children the night before Christmas. You can fill it with anything your kids might like! In the past few years, Christmas Eve boxes have become very popular, as they turn the night before Christmas into something special to look forward to!
But they can also be used for adults and can be a fun way to keep Christmas Eve exciting for the grown-ups too! Find below some info on how to get your Christmas Eve box as well as unique ideas for what to put inside (for both children and adults).
Wooden Christmas Eve Boxes
First of all, if you haven't already got a Christmas Eve box, a personalised one is a great idea. Seeing their name on the box can really add to the fun and allows kids to take pride in their box!
You can get one for each child or to make things easier get one for the whole family, and fill it with gifts for everyone. Most boxes are similar sizes, our Christmas Eve boxes are 26cm wide, 15cm tall and 18cm depth and made from pine wood, plus you can reuse this box every year to keep the magic alive!
However, if you're looking to save money, you can simply use a cardboard box and create your own.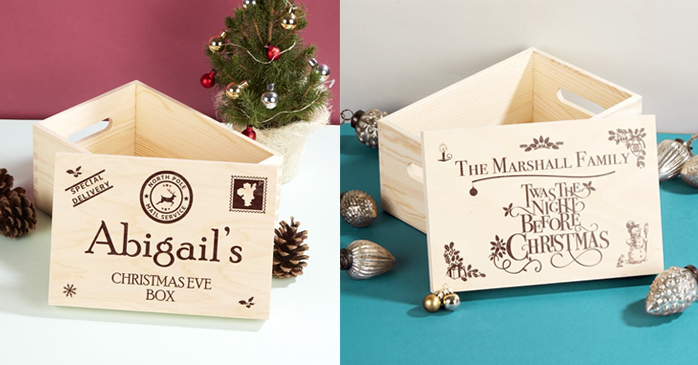 Christmas Eve Box Fillers
So, what should you fill them up with? The options can be varied as it will mainly depend on the recipient's tastes and what their interests are – but here are a few of our favourite ideas.
Ideas for Kids
If you're looking for some quick ideas, see our bullet points below. Keep scrolling for more detailed ideas.
• Pyjamas or slippers
• Christmas mug (with hot chocolate/marshmallows inside)
• Fluffy socks
• Christmas plate/glass for Santa and his reindeer
• Craft kits or colouring books
• A Christmas film (accompanied by popcorn)
• Christmas decorations for them to hang up
• Toiletries (toothbrushes, bubble bath, bath toys etc.)
• Blankets
• Santa key
• Stockings, if they don't already have one
• A goodbye letter from the mischievous elf
• Hot water bottles
• Puzzles or Games
Ideas for Adults
• Loungewear
• Gift cards of vouchers (kindle, iTunes, shopping vouchers etc.)
• Scratch cards
• Toiletries (body wash, bath bombs, bubble bath etc.)
• A Christmas or horror movie
• Mini alcoholic drinks or alcohol gift sets
• A Christmas jumper or t-shirt
• A personalised mug or glass for warm Christmas drinks
• Chocolates
• Scented candles
• Christmas games or board games
• Christmas decorations
• Personalised calendars with your best snaps of the year
• Funny Christmas socks
So, What to Choose for Your Kids?
Games for Kids
What a better to spend time together during the long night before the big day than to play a game or two? You'll see – the longer you'll play, the quicker time will pass and keep them occupied! Get some ideas of games to play in our wide range of cheap games for kids of any age, starting from £3.99 only.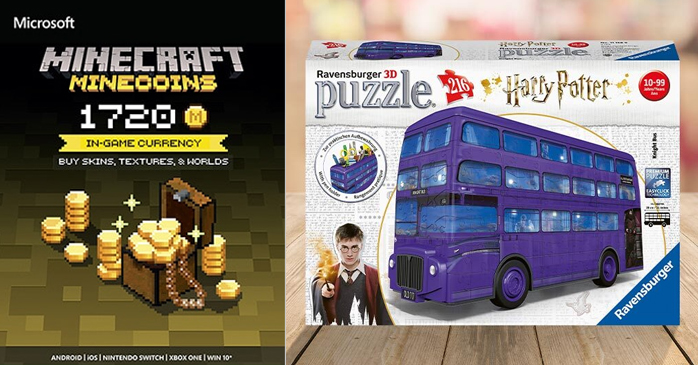 Personalised Books
Make your kids appear in their own story with a personalised book. The night before Christmas book is just perfect for Christmas Eve – your kids can read the tale of Christmas Eve, right before living it themselves. You can even add a happy Christmas message to the inside, for that extra special touch.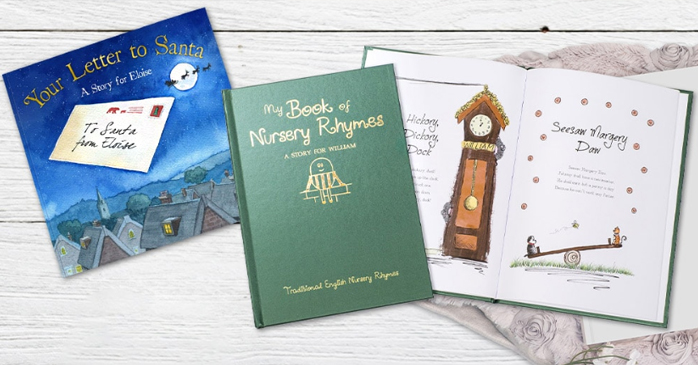 Reindeer Food
Buy a few bags of "magic" reindeer food for the little ones to sprinkle on the lawn before they go to sleep – a nice way for your kids to feel useful by helping the reindeers as they fly from home to home ;).To cut down the costs, you can also buy a few bags of oats, muesli, sunflower seeds, pumpkin seeds, or even dried fruits, and make it yourself. Simply fill some sandwich bags, and print out some labels.
Letter from Santa
Bring a smile to your child's face with a personalised letter to let them know that Santa is on his way! Choose your favourite design, customise the letter with photos of your children and their names and Santa will send it officially from the North Pole! A very cheap little gift which can mean a lot to your child and make this Christmas a little more magical.


Sweets or Chocolates
Add a few sweets, chocolates, or popcorn to the box to nibble on while you are playing or watching a movie. A good idea is the popular "bean boozled" game, which allows the family have a simple yet funny game to play.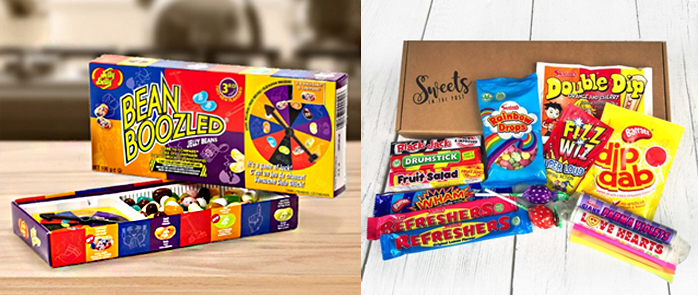 Craft Kits
Bring your kids inner artistic taste and introduce some craft kits in their box – a great activity to do on the night as it may give them something to focus on! From painting unicorn moulds, making Christmas cards with a mega Crayola tub full of pens, making colourful slimes, or creating jewellery, nail art or bracelets. We've got a few handpicked kits for any age, browse our range here.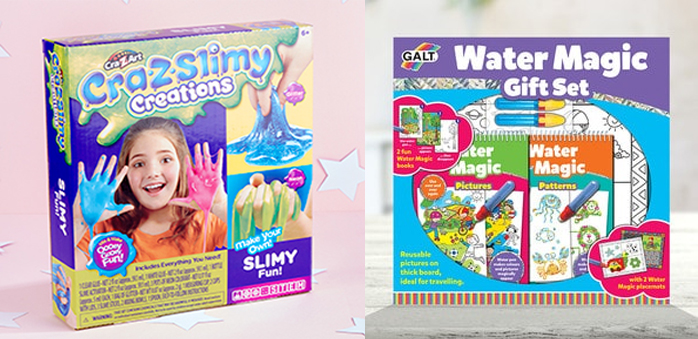 Teddy or Soft Toys
Get them a Christmas teddy with their own name embroidered on to keep them company for the night! It can be something they use every Christmas and sleep with each Christmas Eve to help them cope with the excitement.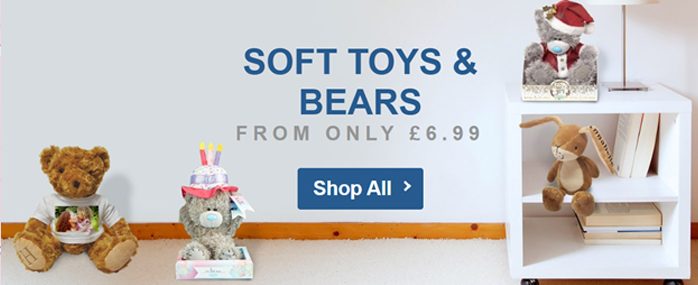 A Special Christmas Decoration
Get your kids their own Christmas bauble with their cutest photo and name on – a great gift for them to hang on the Christmas tree and feel valued! Or, if you are looking to create your own Christmas ornaments this year, we have a short blog on how to create your own Christmas decorations.
A Recipe for Cooking
Initiate your kids to do some cooking with you and encourage them to help with the Christmas dinner! You could even get them cute little kids aprons in order to make them feel even more in charge. You could also print an easy recipe of something you know they love to eat but don't get to eat that often, such as a chocolate fondue, cupcakes and more.


Our Favourite Adults Prezzies
Photo Socks
Create a unique pair of socks and personalise them with your very own photos. Whether you upload your favourite animal face, your favourite actor – or a family member on them, you can select along our festive templated designs the one that will make them laugh and keep their toes warm on the cold night before Christmas.


New Comfy Pyjamas
Get cosy and snuggle into new comfy pjs! For an extra family feel you could even get the same pyjamas in different sizes so that everyone looks the same – perfect for a funny family photo to remember or print some day! Or simply get matching pyjamas for your twin kids, or as a newlywed couple.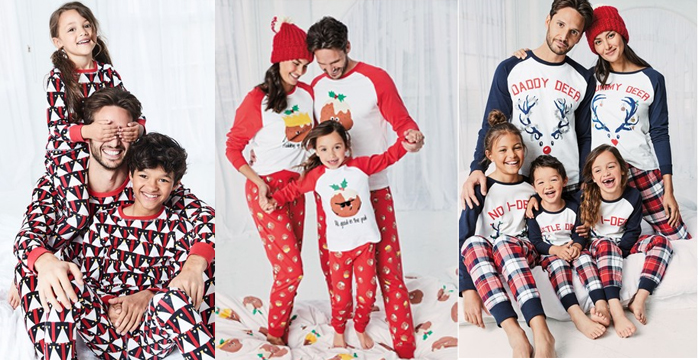 Personalised Mug/Glass
Make your own Christmas mug to face the cold months ahead in a cheerful way! Browse through Christmas mug designs or even engraved glasses to find a customisable template you might like. For beverages ideas, read our blog on our Christmas cocktail to find ideas of hot or cold flavourful drinks made of a variety of spices like cinnamon, nutmeg, chai, vanilla, orange, honey, mandarin or cranberry.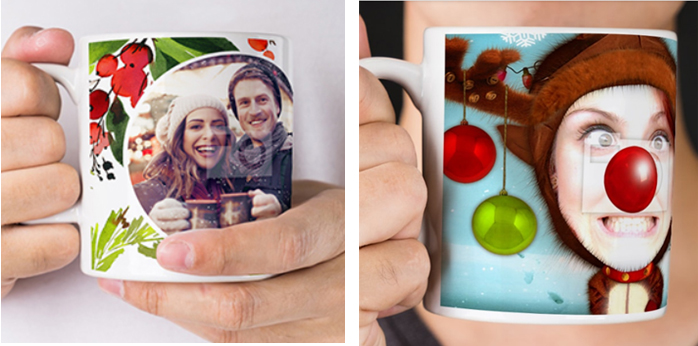 Christmas Classic Movies
With hundreds of Christmas classics to choose from, why don't you get add a new movie to their Christmas Eve box every year? Popular choices if you don't have them already include: The Grinch, Elf, Arthur Christmas, Jack Frost, Home Alone or The Polar Express.
Christmas jumpers or onesies
Get cheerful and cosy with a new Christmas jumper or reindeer onesie this year – a perfect to stay warm and lounge around the house! With super-cosy designs featuring everyone's favourite Christmas characters, you won't be able to resist a brand-new Christmas jumpers. Scour down the charity shops or vintage stores to add keep the price low 😉
Toiletries
Get festive bathing underway in spirals of vibrant colour and scent with Christmas bath bombs that make any holiday a jolly-day. You can also get a set of body wash, bath bombs and bubble bath to have a consistent scent throughout your relaxing bath experience. Check our range of health and beauty gifts to find Heathcote and Ivory retro baubles and belles 12 days of Christmas Treat, or Heyland & Whittle Clementine and prosecco candle, diffuser and spray – perfect to make the house smell like Christmas!
Candles
Used since immemorial time for practical, religious, ceremonial, relaxing, romantic or decorative purposes – candles are just unavoidable. Their smell, flame, and the atmosphere they create makes them the perfect and cheap object to have. Choose a nice Christmassy scent (like mandarin, cinnamon, cloves, pomegranate, pine etc.) and choose a festive design to make it your own.
Set of Playing cards
Get your children a brand-new set of playing cards with their favourite TV series, or film branding? There's a lot to choose from, whether they are Harry Potter fans, or absolute Friends addicts.
Alcohol Small Bottles (unicorn tears)
A special Christmassy cocktail served in your own personalised glass – what a better way to get in the Christmas spirit than with… spirit (of course)! You can get add some sparkle to your drinks with our raspberry unicorn tears gin and balloon glass gift set. If you and your partner are into gin you could also get our unique gin baubles set of six filled with South Bank London Dry Gin – a fun way to make the most of your Christmas decorations.